News
Dennis Bovell at Lost Horizon in Bristol
Lost Horizon & Soho Radio join forces to host a night of lovers rock, boogie, soul, calypso and more.
Dennis Bovell (Lovers Rock Special)
Angel Mel (Ujima Radio)
Elijah Minnelli (Soho Radio)
Come join us on 9th April – tickets HERE.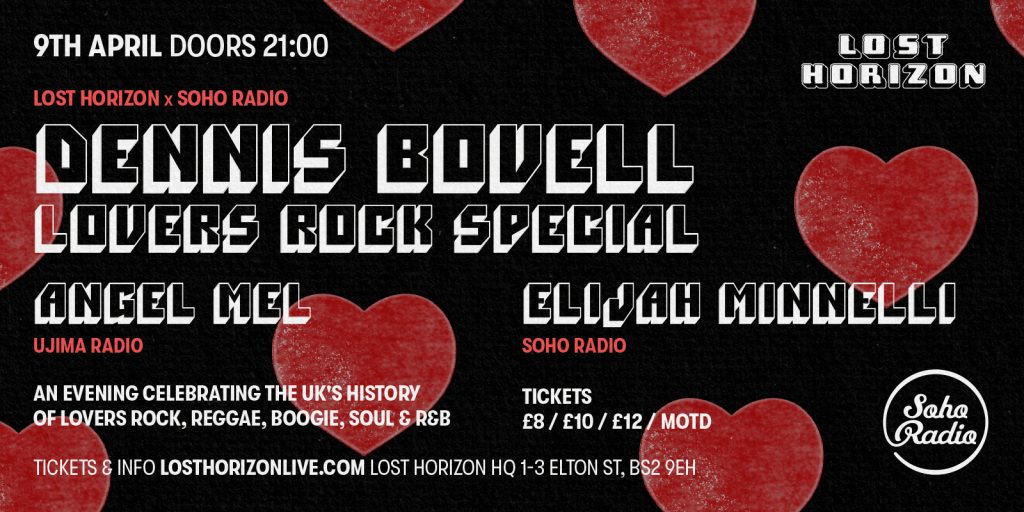 Responsible for more or less inventing the lovers rock sound, Dennis went on to produce some of the defining records of British reggae. 
Since Steve McQueen's short film 'Lovers Rock' landed on British screens, an unexpected revival of the genre has sprung up among the next generation.
This event will celebrate the the UK's rich history of lovers rock, and the music that came thereafter. 
As well as his work with artists like Linton Kwesi Johnson and Janet Kay, Dennis produced classic records with the Slits, rock band Orange Juice, afrobeat legend Fela Kuti, Japanese master Ryuichi Sakamoto and good old popstars like Bananarama.