News
Soho's Record Stores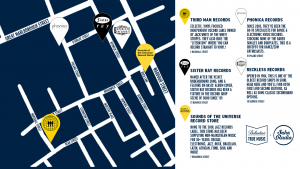 Soho has some of the best record shops around. Support our local record shops by heading down and grabbing yourself some vinyl.
Phonica
Phonica Records is one of London's leading vinyl specialist. Based in Poland St, Soho, the shop opened in 2003. Besides running the various in-house labels, Phonica also host free in-store events and ticketed events across the capital.
Over the years they established themselves as the place to locate the emerging German pre-minimal sound of the moment.
Sounds Of The Universe
Over 25 years ago, Stuart Baker started SOTU, selling records from a humble stall in Camden, fast forward to 2023, and the shop has become one of the leading Soho-based record emporium, the home of Soul Jazz Records, and supplying non-mainstream music for 30+ years: Reggae, Electronic, Jazz, Rock, Brazilian, Latin, African, Funk, Soul and more.
The shop has become an essential stop for touring musicians including Prince, Moodymann, and Questlove.  
Reckless Records
Reckless Records was the first record store in Berwick Street, opening its doors in 1984, and has been buying and selling vinyl records and CDs ever since. Their main areas are Rock & Pop, Soul & Dance, Jazz, Punk and Reggae. There is also a Reckless Records in Chicago that was established in 1989 and is still going strong.
Plus, their shop features on the Oasis album cover What's The Story Morning Glory.  
Sister Ray
Named after the Velvet Underground song, Sister Ray started as a record stall on Camden Market in the mid 1980s, before relocating to Soho, where it quickly became a fixture in the record shop scene of Soho.
Set over two floors, you can expect the likes of the finest new releases alongside a huge range of classic albums and a superb selection of rare and second-hand vinyl.  
Third Man Records
Third Man Records' first ever store outside the USA is in the heart of London's historic Soho. 1 Marshall St completes a trio of Third Man physical spaces that includes facilities in Nashville, Tennessee and Detroit, Michigan.
Personally designed by Third Man founder Jack White, the shop was created throughout 2020 and 2021 during the Covid pandemic, with the aim of creating a physical space to help keep record sales and live performances alive after such a tough period for everyone.